Hi! I'm happy to share with you my WordPress plugin called Add to Home Screen WP. This plugin is based on the awesome Add to Home Screen script by Matteo Spinelli from Cubiq.org. This script places a floating balloon inviting the user to add your website to home screen of its iPhone, iPod touch and iPad. It's a very nice function knowing the fact that few people know that they can add a website to  the home screen as any iPhone or iPad application.
I adapted the script to let it work on WordPress, and added a settings page to let you custom appearance, effect, delay, message, icon touch, etc…
NEW UPDATE 2020 : plugin supports now all recent iPhones and tested up to WordPress 6.2 !
NEW: Use it with a PWA WordPress plugin, and turn your WordPress blog into a real « like » mobile app! More information below.
Click here to download Add to Home Screen WP Plugin from the official directory of WordPress plugins.
You can now use a PWA WordPress plugin, like SuperPWA for instance, to turn your WordPress blog into a kind of mobile app, without the constraints of a native mobile app (store submission, costs, etc…).
With PWA coupled with Add to home screen WP Plugin, you will be able to display the legendary floating balloon that invites your visitors to add your blog to their iOs device, and then your blog will load as a PWA.
This combination is the best way to increase visitor loyalty, without being obliged to upload a costly native mobile app into App Store and Play Store.
Installation of Add to Home Screen WP Plugin
1. Upload add-to-home-screen-wp folder to the '/wp-content/plugins/' directory or upload the zip file from the add new plugin page of your dashboard.
2. Activate the plugin through the 'Plugins' menu in WordPress. The floating balloon is now enabled.
3. Go to Settings > ATHS Options and play with settings.
Screenshots of the plugin
As you can see below, the floating balloon is displaying differently according the version of iOS.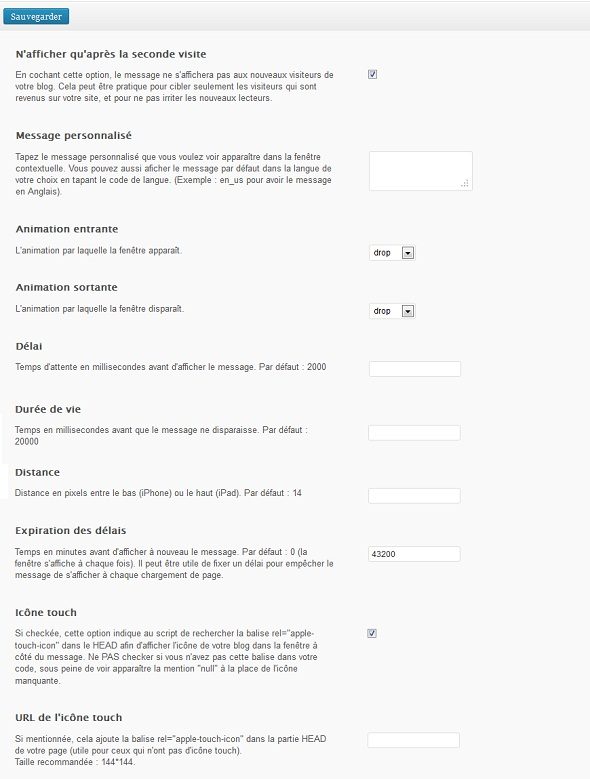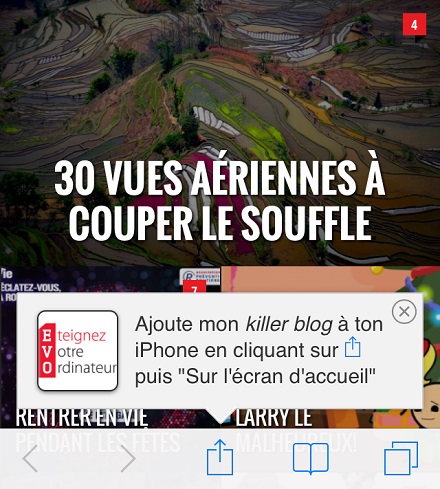 This plugin helped you? Please let me know by sending me a tweet, and by rating it on WordPress!